Cables, cables, cables
Every year, more things are possible in the digital OR. That's a good thing, as this can boost OR teams' productivity, turnaround times and patient recovery. However, with digitalization come challenges too:
Hardware needs to be maintained and software needs to be updated in time
The lifecycles of individual products need to be monitored
New products (sometimes from different vendors) need to be validated into existing setups
OR integrators need to be able to track which devices are installed where
Connectivity for flexibility
For the sake of efficacy, connecting devices to OR-over-IP systems helps greatly in making the operating theater better organized. 'OR-over-IP' as a concept has an abstract touch to it, as it is mostly a physically invisible (digital) framework upon which connectivity is built. However, never underestimate the power of a good OR-over-IP system: if it is constructed well and has a strong device portfolio surrounding it, it makes a hospital's surgical department so much more flexible.
That is why, at Barco, we are expanding our surgical device portfolio today with a series of three in-wall consoles for the OR, with built-in Nexxis connectivity.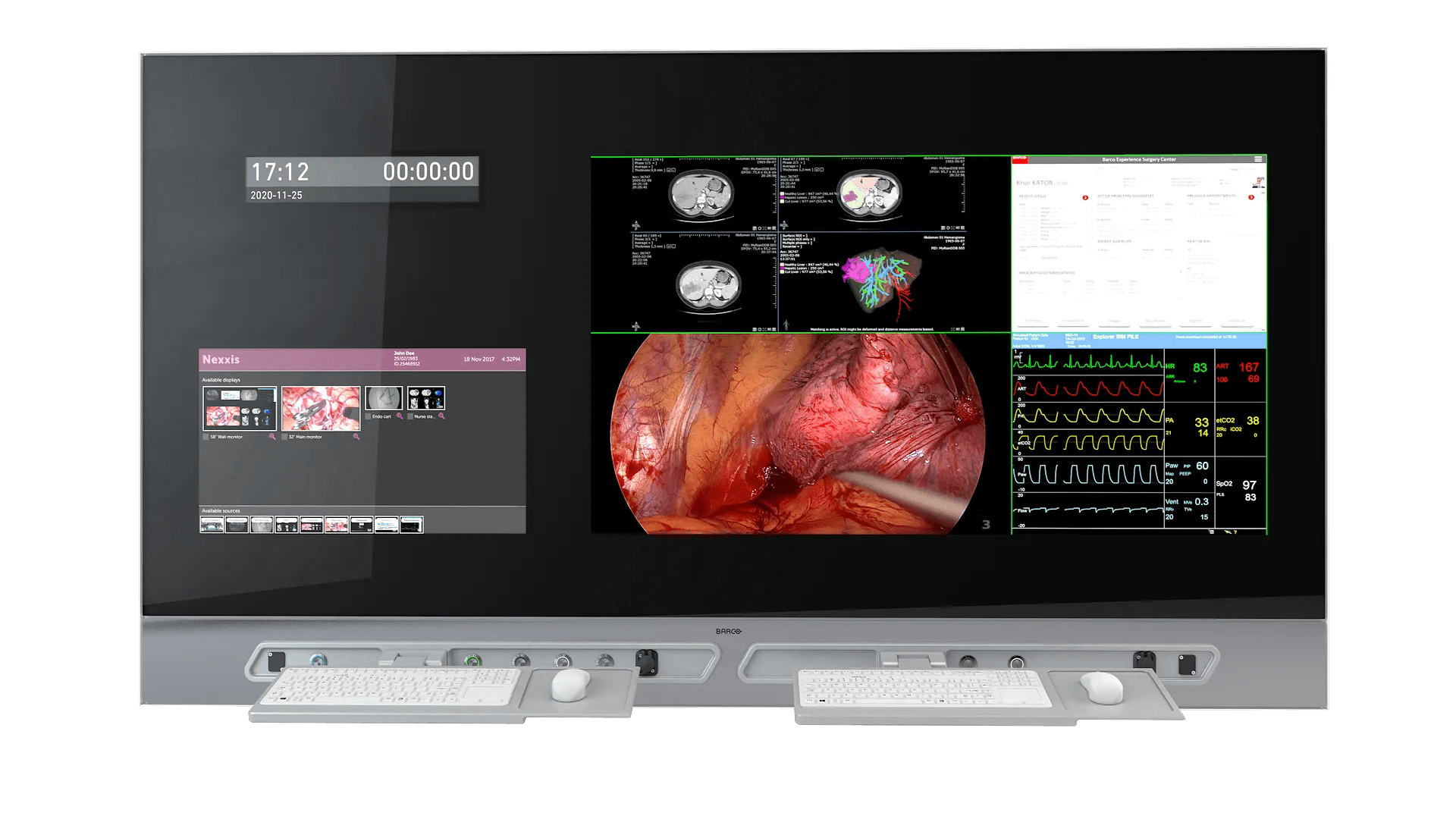 Put your walls to work
Walls often remain unused whereas they do offer the ideal place to collect and display multiple information sources for the entire OR team to see: they allow plenty of surface while taking up no space. Barco's new consoles are integrated in the walls: the only thing taking up extra room is an optional touchpad, mouse and keyboard that can be folded up when not in use. Or you can just opt for even more workflow support and go for a touchscreen.
Barco's MDMX-MNA series of in-wall consoles offers a variety of functionalities. They consist of a single or double display configuration and allow the entire OR staff to combine and view multiple images, with an intuitive control system. This makes them multifunctional: they can function as nurse station areas presenting patient and surgery information, and also as AV control station.
Nexxis inside
The consoles' built-in Nexxis functionality makes it possible to integrate them easily within both new and existing Nexxis systems, without struggles with connectivity or compatibility. You can also attach mobile devices, such as C-arms, to Nexxis, for further enhanced connectivity. All three consoles also offer a Nexxis button that can be customized for specific tasks: start or stop recordings, take snapshots, change video layouts, … So you can get the most out of your wall – and your OR 😉
Pick your choice
The MDMX series offers a choice between three different displays, each with a black protective, anti-reflective glass front cover that allows easy cleaning and disinfecting:
MDMX-22400 GNTB: 24", full-HD console with touchscreen. A SmartBar shows time and date (synced with the hospital network) and StopWatch functionalities support time-sensitive interventions.
MDMX-25500 GNNB: 55", 4K console. The WorkSpot feature makes it possible to show up to 6 video sources, and a PACS optimization button lets you quickly switch between color profiles.
MDMX-22449 GNTB: combined display configuration of a 24" full-HD and a 49" 4K display, with touchscreen. This console also offers the SmartBar, StopWatch and WorkSpot functionalities.