All values summarized:
1.5x more brightness than mainstream 80" LED-lit rear-projection video walls.
25% less power consumption at higher brightness levels.
More than 11 years of uninterrupted operation in 24/7 mode.
Unmatched colors, focus and contrast levels.
Lower price/m2 (compared to 70" cubes).
Silent like never before ('library' noise level).
Redundancy of critical components for ultimate peace of mind.
Improved setup-time thanks to its motorized 7-axis alignment and reduced number of cubes to be installed
Introduced in 2016, Barco's RGB laser-powered ODL series reshaped the rear-projection video wall market. Its impeccable image quality, low operating costs, unsurpassed reliability and longevity, brought all the advantages of RGB laser projection to video walls. The RGB Laser ODL-721 series still provides a versatile portfolio for many applications, including critical control rooms and virtual reality.
All the advantages of lasers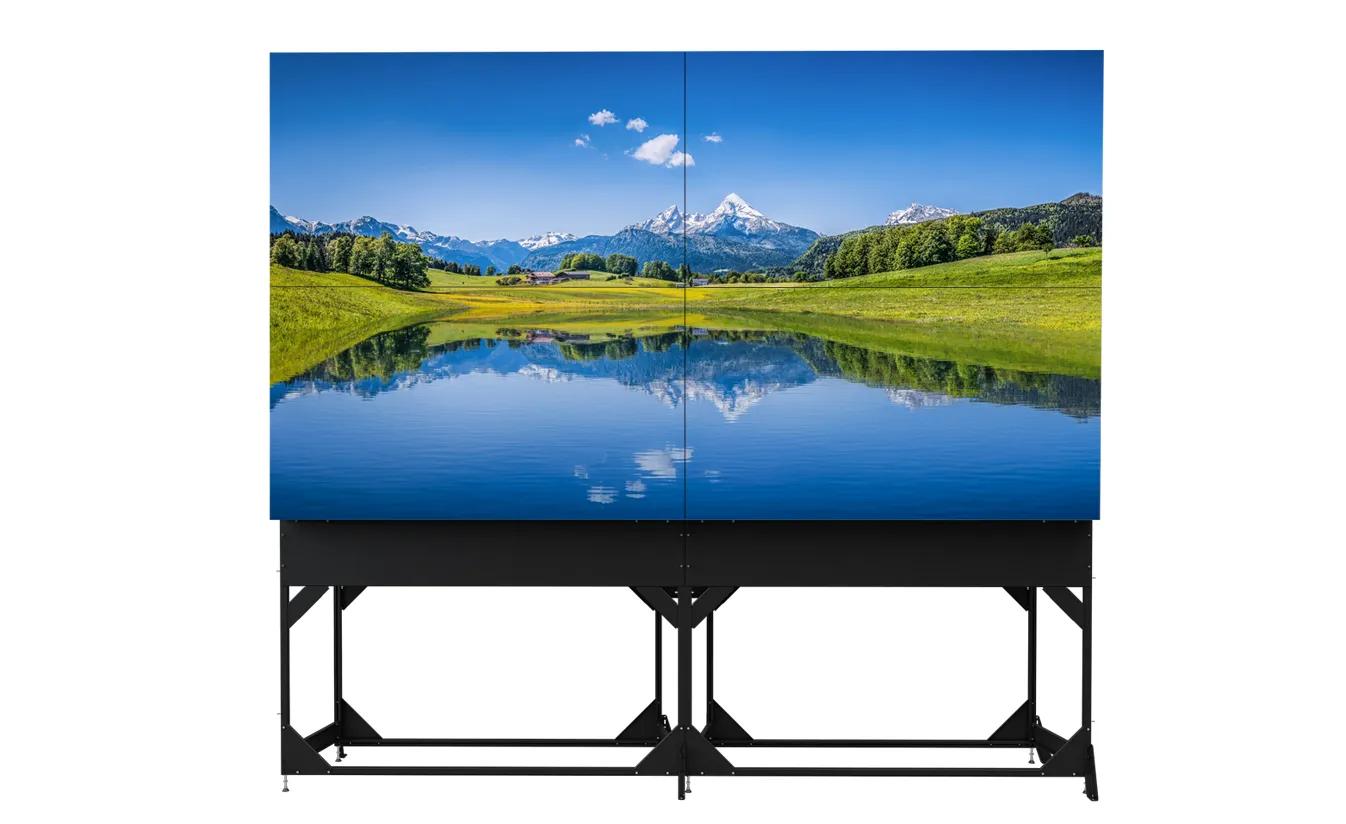 The new RGB Laser ODL-821 houses all these RGB laser advantages, but in a Full HD, 80" cube. The main benefit of having a larger cube size is that the cost per surface area is lower, because fewer cubes are needed to cover the same area. The reduction in number of cubes required, also results in fewer seams across the entire wall, offering a more balanced view with less interruptions. Additionally, as less cubes need to be installed and maintained, even higher cost-efficiency is reached. The fully motorized engine allows installers and maintenance staff to perfectly align the individual cubes using Barco's Wall control manager software, enabling the cubes to be installed 50% faster compared to non-motorized engines.
The RGB Laser ODL-821 features DisplayPort 1.2 connectivity support. This means that [email protected] Hz loop-through is supported, so you only need one cable from the controller to the video wall to connect 4 cubes.
Leading the video wall experience
"With the RGB Laser ODL-821, we further strengthen our rear-projection video wall portfolio," says Jay Badvel, Product Manager at Barco. "This new product safeguards the strong performance of the existing model and will, without any doubt, appeal to many of our customers. Reconfirming our dedication to the rear-projection video wall market, the RGB Laser ODL-821 is a great addition to our video wall portfolio, now consisting of the best in laser & LED rear projection, tiled LCD and Direct View LED video walls. In this way, we further secure our position as a leading innovator in large video walls"
Are you interested to know more about our complete large video wall portfolio? Then visit us at ISE 2019, February 5–8 at the Amsterdam RAI.
And, as a special treat, we give you the opportunity to reserve your ISE 2019 ticket on us, free of charge! Simply use the link below and click the "REGISTER" button. The Barco invitation code is 703630.
https://www.iseurope.org/myise/#visitorPortal-registration-email
About Barco
Barco designs technology to enable bright outcomes around the world. Seeing beyond the image, we develop visualization and sharing solutions to help you work together, share insights, and wow audiences. Our focus is on three core markets: Enterprise (from meeting and control rooms to corporate spaces), Healthcare (from the radiology department to the operating room), and Entertainment (from movie theaters to live events and attractions). In 2017, we realized sales of 1.085 billion euro. We have a team of 3,600 employees, located in 90 countries, whose passion for technology is captured in 400 granted patents.
For more information, visit us on www.barco.com, follow us on Twitter (@Barco), LinkedIn (Barco), YouTube (BarcoTV), or like us on Facebook (Barco).

© Copyright 2019 by Barco