EssentialCare and SmartCare: these are the Barco service packages that provide you the needed peace of mind during the operation of your TruePix video wall. They are the best guarantee to not only keep your wall operational for the entire lifecycle of the investment, but also to ensure a predictable budget. In this way you optimize the ROI of the video wall. And the good news is that we can offer these services for up to 10 years after installation. That means that during this period you can guarantee a consistent canvas – and a great viewing experience.
Barco's services don't start after deployment. You can also rely on us during other phases, using our Installation services, Project Management team, and Training & Documentation offerings. These dedicated professional services, open the access to the Barco service and installation experts that can help optimize the installation process up to deployment.
Taking the risk out of shipment
Shipping is a critical step for LEDs. It is in the top-2 of moments in which LEDs can get damaged. Barco TruePix is of course packed carefully for transportation, but for the safety of installers we put a DOA procedure in place. Upon arrival, all modules can be tested before installation. At that time any malfunction of the module can be reported; the warranty period only starts after the panel acceptance.
Ensuring batch compliance
To guarantee a completely smooth and uniform canvas, the LED modules all need to be produced in the same batch.
LEDs are quite sensitive when it comes to visual consistency. They are produced in batches of identical products. At any time, the complete wall must be constructed of modules from the same batch. By the way, this is related to LED technology, and not at all a Barco-specific issue. If a product from a different LED batch is introduced this will be visible (especially under certain viewing angles). So, to guarantee a completely smooth and uniform canvas, the LED modules all need to be produced in the same batch. That is why Barco keeps spare batch-compliant modules in stock during the complete service period. In this way customers are sure to keep offering the same stunning viewing experience, even if some modules need to be replaced at some point in time.
Proactive instead of reactive maintenance
Even better than solving an issue, is preventing it from happening. This can be done with the Barco Video wall Management Suite (VwMS) solution. Using this cloud-based software you can monitor all critical parameters of the LED video walls from a central location. This allows (own staff (like facility managers or the IT team), managed service providers, or other partners) to continuously keep an eye on the status of the video wall. If certain parameters reach a certain threshold, the software will issue a warning (or an alarm) so preventive action can be taken. For example, when the temperature sensor exceeds a certain value, the onsite team should check the cooling. Looking into this issue will most likely prevent further damage and potential downtime. Or, as seen in the previous episode, you also get a notification if a data path in the 4-way inter-tile redundancy fails (which is invisible to the users).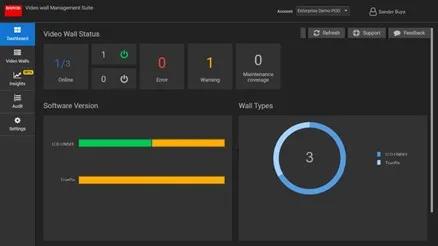 This and a lot more can be done with the Video wall Management Suite. An EssentialCare service pack includes a VwMS Monitor license, allowing to monitor the basic operational parameters of the wall (brightness, temperature, settings, …). The SmartCare package holds a VwMS Diagnose license, which provides a lot of additional information on the status of the video wall, making sure you can diagnose most occurring issues remotely. This includes a dashboard with the current health issues (errors and warnings) and a prediction of potential health issues based on our rule-based analytics.
Additionally, note that this management suite is not confined to TruePix. More Barco video walls can be included in the same program; not only from our LED portfolio, but also the LCD and rear-projection video walls! This allows managed service providers to monitor a large fleet of Barco video walls.
Trust in Barco
Next to our extended service offering, there is also a less quantifiable yet extremely important additional factor playing: the Barco brand. Established in 1934, we have a rich history of almost 90 years, and have been leading the LED markets for over 20 years. This means we not only have the expertise and experience to design and deploy LED solutions optimally, but it also means that we are an established company with a solid team and a worldwide network of regional offices for support and a 24/7 helpdesk. Consistency in service and availability of spare parts is therefore guaranteed. What's more, we have an excellent reputation and we are dedicated to honest and transparent business (providing correct and verifiable spec information). Quality and reliability are the keywords throughout our portfolio. An example of this is the rigorous quality control during the Factory Acceptance Testing.
Do you want to know more about TruePix services? Then download the leaflet!