This article will help you to identify your ClickShare Base Unit model. The Base Unit model can be identified in the following ways:
Physical inspection
ClickShare Configurator
ClickShare Desktop App
Button Client App
Physical inspection:
Search for the part number and/or model name mentioned on the label attached to the bottom of the Base Unit or on the box in which the Base Unit came, see the example shown in the image below:



ClickShare Configurator:
Login to the ClickShare Configurator (how to: see KB 2324) of your Base Unit and navigate to System > Base Unit Status to the view Base Unit part number and model name.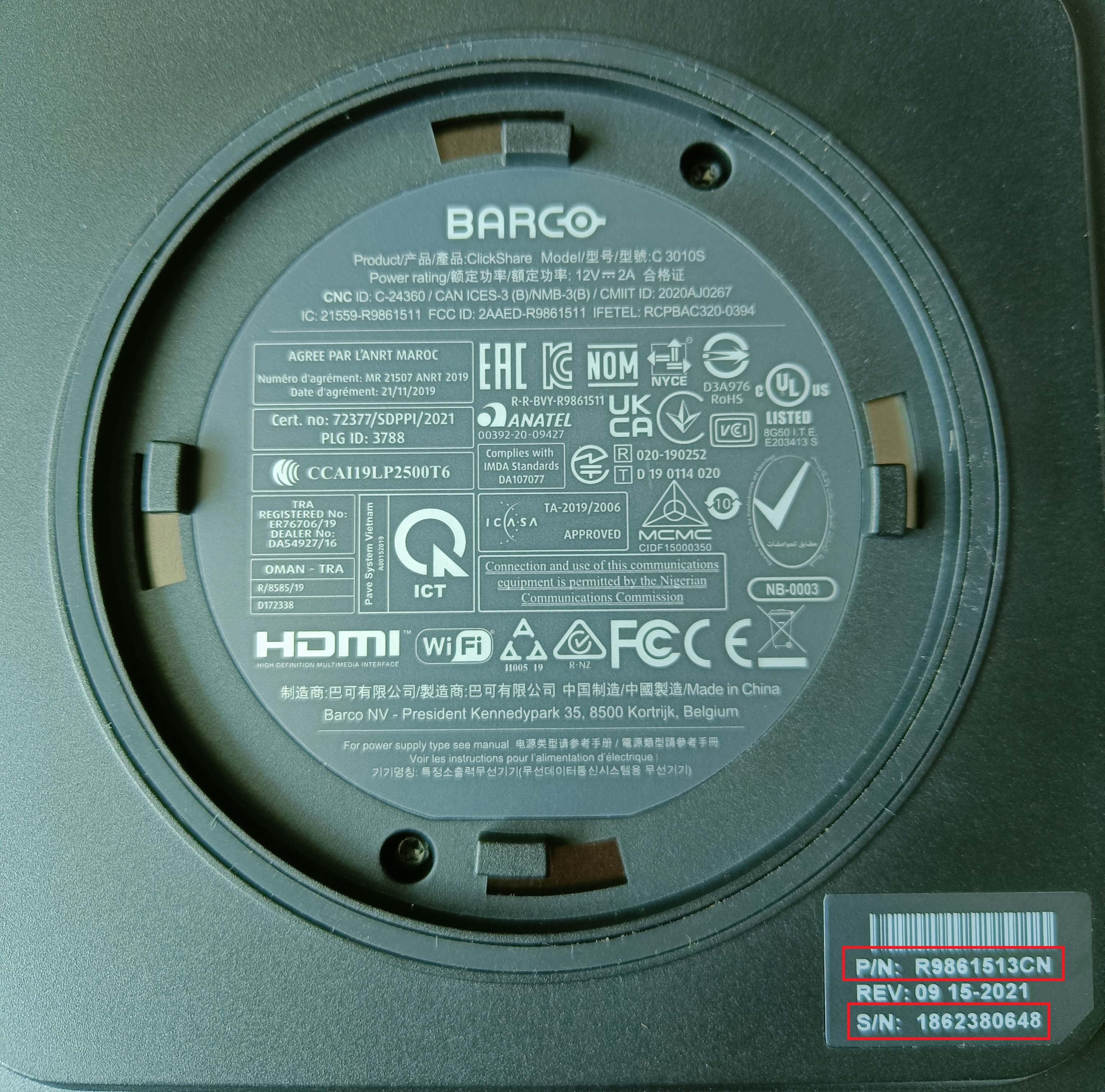 ClickShare Desktop App:
Connect to your Base Unit and open the About menu to view the Base Unit model name.



Button Client App:
Plug in the ClickShare Button to the laptop and open the About menu in the Button Client App to view the Base Unit name.




Refer to the table below to visit the product page of your Base Unit on the Barco website.
Base Unit image
Model name and part number

Part number:

R9861505XX (XX stands for the region)

Part number:

R9861511XX (XX stands for the region)

Part number:

R9861512XX (XX stands for the region)

Part number:

R9861513XX (XX stands for the region)

Part number:

R9861605XX (XX stands for the region)

Part number:

R9861611XXB1 (XX stands for the region)
R9861611XXB2 (XX stands for the region)

Part number:

R9861612XXB1 (XX stands for the region)

Part number:

R9861613XXB2 (XX stands for the region)

Part number:

R9861522XX (XX stands for the region)

Part number:

R9861622XXB2 (XX stands for the region)

 

 

Part number:

R9861510XX (XX stands for the region) / R9861510HXX (XX stands for the region)

This product is no longer available, check the product page for alternative replacement

 

 

Part number:

R9861520XX (XX stands for the region)

This product is no longer available, check the product page for alternative replacement

 

 

Part number:

R9861521XX (XX stands for the region)

This product is no longer available, check the product page for alternative replacement

 

Part number:

R9861580XX (XX stands for the region)

This product is no longer available

 

Part number:

R9861008XX or R9861017XX (XX stands for the region)

This product is no longer available

 

 

Part number:

R9861005XX (XX stands for the region)

This product is no longer available
Related articles: